Examples of my work include:
Medical, pharmaceutical and healthcare projects
Regulatory affairs (summaries of product characteristics, patient information leaflets, labelling, protocol summaries)
Clinical trial documentation (informed consent forms, product information, patient questionnaires, patient assessment instructions, clinical trials contracts etc.)
Optometrical texts and documents (lens fitting instructions, patient and optometrist information, marketing texts etc.)
Medical devices documentation (instructions for use etc.)
Proofreading, quality management, reconciliation of all types of medical texts mentioned above, linguistic validation of patient reported outcomes
Linguistic analysis, linguistic review
Translation of five books from the series Books Beyond Words on the subject of sexual abuse and depression in people with learning disabilities
Quotation request
If you would like to discuss translation or proofreading of your documents with me, please complete the Contact form.
Social sciences and legal projects
Translation of academical texts for a website –
Housetop Care Ltd.
Localisation of texts for talent assessment and management
Psychometric tests, training materials and documents, e-learning programmes
Safety plans and instructions, evacuation procedures
User manuals
Marketing materials
Public sector and legal documents (questionnaires, instructions, letters, contracts, child protection plans, marriage and birth certificates etc.)
Renewable energy software translation
Pro bono work
Translators Without Borders
Pro bono work as the former language lead and translator for the Translators Without Borders health care/medical project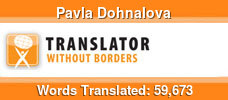 English to Czech volunteer translator
If you wish to see sample texts of my work, please contact me or go to the Portfolio section of my ProZ.com profile.
Czech with style